ACCOMPLISHMENT
REPORT
Diwata's Yearly Accomplishment Report
WHO WE ARE
Diwata's members are geologists, lawyers, mining engineers, communication officers, finance experts and other professionally trained women with an interest in national development and with the objective of providing a positive and productive platform for the promotion of responsible development of the Philippines' resources and promotion of initiatives to protect the land and its communities, particularly our indigenous people - their livelihood, health, education, and culture.

The idea to form an organization of "Women in Resource Development" had its roots in the Minerals Development Council (MDC), which Amb. Delia Domingo Albert chaired as then Presidential Adviser for Multilateral Cooperation and Development and concurrently as Special Envoy for Mining. The MDC was tasked with, among others, providing institutional support and serving as a monitoring body for the implementation of the Minerals Action Plan following the passage of the Mining Act of 1995. During the regular meetings of the MDC, the women representatives of the member agencies of government and private sector were instrumental in carrying out the clearly stated national policy of "revitalizing and promoting" the mining industry.

2023
Earth Day
April 22, 2023
On the occasion of Earth Day, Diwata held a consultation
meeting with the Aeta chieftains of the Bamban,
Tarlac community regarding the implementation of its
USAID-ESP grant.
Philippine Mining Club Luncheon
March 10, 2023
In celebration of International Women's Day, Diwata
co-sponsored the Philippine Mining Club Luncheon at
Seda Hotel, BGC.
The special guest and keynote speaker was DENR
Secretary Maria Antonia "Toni" Yulo-Loyzaga.
Also present during the event was the newly appointed
Australian Ambassador to the Philippines, Her
Excellency Hae Kyong Yu.

Tanging Tanglaw Project
March 08, 2023
Award of Diwata's grant from USAID-Energy Secure
Philippines for the Tanging Tanglaw Project
Tanging Tanglaw project site in Bamban
March 04, 2023
First site visit of Diwata and its project partners to the
Tanging Tanglaw project site in Bamban, Tarlac after
relaxation of COVID-19 restrictions.
2022
Pagkilala: Likas-Kaya Pag-unlad
November 18, 2022
Diwata launched it "Pagkilala: Likas-Kaya Pag-unlad"
Award at the 68th Annual PMSEA event in Baguio.
Diwata at PH-EITI Women Leaders Forum
November 07, 2022
Diwata at PH-EITI Women Leaders Forum
2021
Recognizing the challenges of the pandemic
December 18, 2021
Recognizing the challenges of the pandemic, Diwata,
with the support of Didipio Mine, organized a mental
health webinar.
2020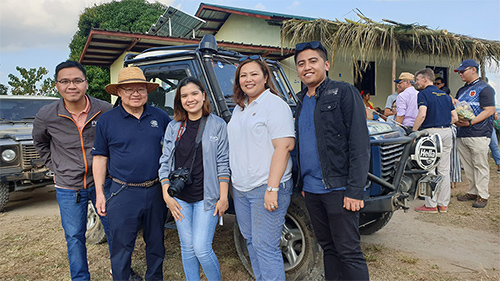 Sulong 2020
February 29, 2020
One of Diwata's major activities for 2020 was "Sulong
2020 in partnership with the Land Rover Club of the
Philippines, PMSEA and FWD Insurance. A program
was hosted by SGV & Co at their office in Clark
Freeport Zone. Present during the event were foreign
dignitaries, namely H.E. Jaideep Madumdar, Indian
Ambassador; H.E. Harald Fries, Swedish Ambassador;
H.E. Shobini Gunasekera, Sri Lanka's Ambassador;
and Counsellor Sheona McKenna from the Australian
Embassy in the Philippines. They later visited the
project site of "Tanging Tanglaw" at Sitio Caguing,
Bamban Tarlac.